CAREER COACHING IN A BOX:
A unique strategy for developing your career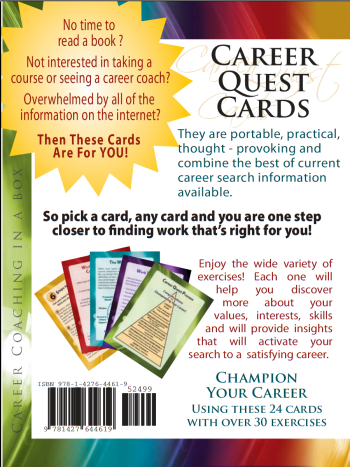 Searching for a career that fully utilizes your talents?  Baffled by the number of career paths open to you?  Ready to commit to a career where you can truly make a difference? The help you need is now available inside one box—in a fun, easy-to-use format that will enable you to reinvent yourself for today's challenging job market and guide you on your path to career success. Seattle-based career counselor/coach Halimah Bellows, MA, MS, CCC, CPC has designed this set of CAREER QUEST CARDS TM© as a unique and affordable strategy for developing a fulfilling new career.
Whether you are a mid-life professional making a career transition, a recent college graduate without a clear career direction, a retiree embarking on a new stage in your work life or a dissatisfied job-holder who has never before considered a real career, CAREER QUEST CARDS TM© can offer you a practical, portable tool for finding the work that is right for you.
Packaged in a convenient, portable 4½-by-6-inch clear plastic box, the set of 24 CAREER QUEST CARDS TM© provides a distillation of 30 key career-coaching exercises. The cards are color-coded in five categories, allowing an individual the flexibility to work with the cards randomly or use them in a sequence that suits his or her own learning style. Individuals are encouraged to keep journals to track discoveries that they make about their values and preferences in the process of doing the exercises.
| | |
| --- | --- |
| | Career coaches and counselors, career development professionals and outplacement consultants, as well as high school guidance counselors and advisors can also utilize the CAREER QUEST CARDS TM© in working with their students or clients. The brochure in the package of cards includes suggestions for using the exercises interactively with individuals or organizing workshops where people work together as partners or in small groups.  Young people in particular may find the colorful cards more fun than reading a book about career development. |
Halimah Bellows is a seasoned career counselor/coach with more than 20 years of experience as well as an educator and educational planner for colleges and non-profits on the West Coast.  She has appeared as a guest on a number of radio talk shows in the Pacific Northwest.  She is available for counseling, coaching or presentations at hbell@clarityandaction.net  or careerquestcards@gmail.com.
NOW!
You can watch a new video about CAREER QUEST CARDS TM(C)
and learn more about how to use them on YouTube at