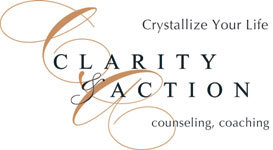 Crystallize Your Life
Champion Your Career
Have you ever thought about what it would be like to have someone in your corner who was completely dedicated to your success? Someone who would act as your sounding board, give you straightforward, no-nonsense, supportive feedback and ask you the tough questions—like "What is it you really want in life?" Someone who helped you figure out how to achieve your goals and keep you on track?
Knowing what you want isn't the same thing as knowing how to get it.
Whether you work for a company, own a business, or are raising a family, life today seems to get more and more demanding. The challenges can be overwhelming, and getting the support you need to create a productive and prosperous business or personal life isn't always easy.
But you don't have to do it all alone.  By working with an experienced counselor/coach to clarify your goals and develop a plan, you can discover your personal path to success.  At Clarity and Action, we offer a pragmatic approach to focusing on where you are in your life right now and where you want to go. We help you explore some of the obstacles that are in your way and find effective ways to overcome them.  We provide the support and accountability you need and help you gain the motivation to stay focused and achieve you dreams.
Halimah Bellows, MA, MS, CRC, CCC, CPC
Halimah Bellows has a gift for gently but relentlessly sifting through the mist and fog of her clients' lives and bringing the clarity in them to light. For more than 20 years, she has been helping people find their ideal careers and create lives that are balanced, interesting and fulfilling. As a career counselor, coach, educational planner and advisor for colleges and non-profits in Seattle and San Francisco, she has successfully helped her clients find their true talent and reach their life goals.
Halimah holds a B.S. from NYU, a M.A. in Teaching English as a Second Language from University of Exeter in Great Britain, and a M.S. in Counseling Psychology from San Francisco State University. She has also received intensive training from both the Coaches Training Institute and Coachville's School of Coaching. An experienced workshop presenter and group/meeting facilitator, Halimah has lead seminars and retreats for a variety of educational, religious, non-profit and corporate clients. She has also made several guest appearances on local radio shows. In addition to assisting people through career transitions, Halimah is currently focused on inspiring and empowering artists, entrepreneurs, and professionals to nourish their businesses and achieve their dreams.
Clarity and Action Coaching
* Solution-focused  
* Results-oriented
* Client-interactive
Services:
Personal Coaching
Small Business Coaching
Career Counseling
Outplacement & Job Coaching
Workshops
Relationship Coaching
Retirement Coaching
Group/Meeting Facilitator
Public Speaking
Business & Educational Consulting
Clients/Affiliations:
American Federation of Teachers
Seattle Community College District
Shoreline Community College
Bellevue Community College
San Francisco State University
Subud USA
Décor Carpet One
The Coaches Training Institute
Puget Sound Institute for Teaching, Training and Technology
New You Expo
University of Washington
Osher Lifelong Learning Institute
KKNW Radio
Women in Small Biz
2 Young to Retire
Positive Talk Radio
 West Seattle Chamber of Commerce
AARP
Check out the new video about CAREER QUEST CARDS TM(c) now on YouTube at  http://youtu.be/zIDjDwvZ674